WE LOVE KITESURFING!
And we want to teach you this lovely sport.
Learning to kite is not as hard as many may think as long as you start with the basics.
At Villa Surf Garden we offer both beginner and continuation courses as well as private lessons. So no matter your skill level we have something suitable for you.
All our instructors are IKO-certified, which is the kiteboarding industry standard worldwide. They are also certified for CPR and First Aid with AED by Säkerhetsutbildningar.se. This ensures that you are taught in a secure, correct and fun way. We guarantee that you will have a blast learning to kite!
To optimize the learning curve and ensure a good pace during the course, we always have a maximum of two students per instructor. This works best as it allow for short brakes to recover between exercises. Safety is always our highest priority, but having fun comes in a close second.
2500 SEK
You'll learn all the
kitesurfing basics.
Safety –

On/off the water.
This is a high priority during the whole course.

Theory –

Wind, water, rules.

Gear –

How it works and what different type of gear there is (kites, boards, harnesses, wetsuits etc.)

Kite control –

Learn to steer a kite, practice maneuvers and kite power.

Bodydrag –

In the water we use the kite to stay afloat and tacking against the wind (upwind).

Board control –

Theory and practical exercises on how to get up on the board.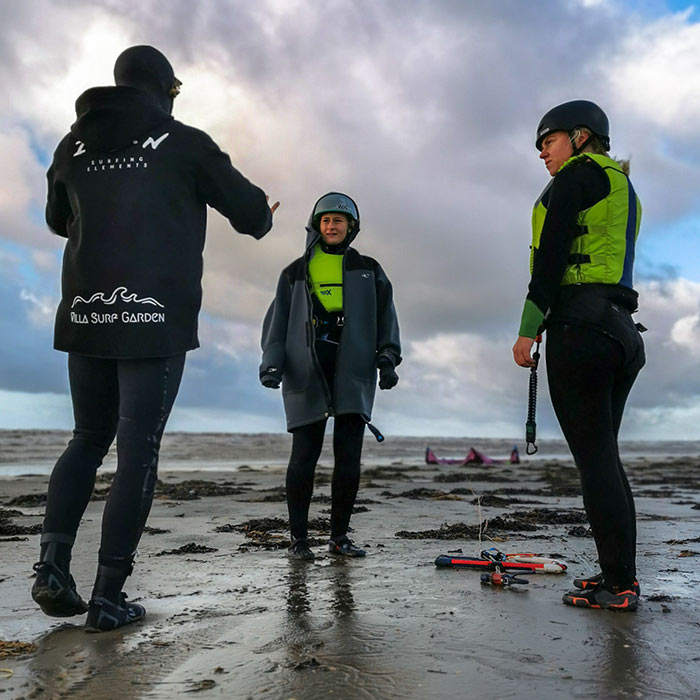 1800 SEK
Up on that board and try to go upwind!
Riding –

We keep practicing at getting up on the board and learning to go in both directions.

Upwind –

We practice tacking/going upwind.

Personal –

Depending on how well you can handle the board and the riding we can tackle different elements at the end of the lesson. How to transition from one way to the other, how to jump etc.
900 SEK/hour
We'll improve where you stand!
Custom –

The private lesson is all up to you and we will customize it according to your needs.

Refresh –

Maybe you did the course a year ago and just need some refreshing tips to get up on the board.

Jumping/Tricks –

Is it time to try the back roll, a hand drag transition? Or are you ready to boost big and go for that scary kiteloop?
Feeling hooked already?
Then book your course today!
We'd love to show you what kitesurfing is all about.